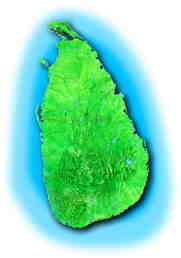 Welcome To
Sri Lanka Information Page.

---
Official Name
The Democratic Socialist Republic of Sri Lanka
---
Location
Sri Lanka (formerly Ceylon) is an independent Island-nation. It is one of the largest islands in the Indian Ocean and lies approximately 20 miles to the southeast of the southernmost tip of India. The narrow Palk Strait divides Sri Lanka from India.
---
History
The history of Sri Lanka goes back to pre-historic times with a recorded history of over 2,000 years. Recent excavations show that even during the Neolithic Age in Sri Lanka, there were food-gatherers and rice cultivators. Very little is known of this period and documented history began with the arrival of the settlers from North India. They introduced the use of agriculture through a rudimentary system of irrigation. They also introduced the art of government. Of the ancient settlements, Anuradhapura grew into a powerful kingdom under the rule of Pandukabhaya. According to traditional history he is accepted as the founder of Anuradhapura.
During the region of King Devanampiya Tissa, a descendant of Pandukabhaya, Buddhism was introduced in 247 B.C. by Arahat Mahinda, the son of Emperor Asoka of India. This is an important event in Sri Lankan history as it made the country predominently Buddhist influencing its way of life and culture.
In the mid 2nd century B.C. a large part of North Sri Lanka came under the rule of an invader from South India. From the beginning of the Christian era and up to the end of the 4th century A.D. Sri Lanka was governed by an unbroken dynasty called Lambakarna, which paid great attention to the development of irrigation. A great king of this dynasty King Mahasen (3rd century A.D.) who started the construction of large 'tanks' (reservoirs) which in turn fed smaller reservoirs. Another great 'tank' builder was Dhatusena, who was put to death by his son Kasyapa, who made Sigiriya a royal city with his fortress capital on the summit of the rock.
As a result of invasions from South India the Kingdom of Anuradhapura fell by the end of the 10th century A.D. Vijayabahu I repulsed the invaders and established his capital at Polonnaruwa in the 11th century A.D. Other great kings of Polonnaruwa were Parakrama Bahu the Great and Nissanka Malla, both of whom adorned the city with numerous buildings of architectural beauty.
Invasions continued intermittently and the capital was moved constantly until the Portuguese arrived in 1505, when the chief city was established in Kotte, in the western lowlands. The Portuguese came to trade in spices, but stayed to rule until 1658 in the coastal regions, as did the Dutch thereafter. Dutch rule lasted from 1658 to 1796, in which year they were displaced by the British. During this period the highland kingdom, with its capital Kandy, retained its independence despite repeated assaults by foreign powers who ruled the rest of the country. In 1815 the Kingdom of Kandy was ceded to the British who thus established their rule over the whole island. Modern communications, western medical services, education in English, as well as the plantation industry (first coffee, then tea, rubber, and coconut) developed during British rule. By a process of peaceful constitutional evolution, Sri Lanka won back her independence in 1948 and is now a soverign republic, with membership in the United Nations Organization and the Commonwealth.
---
Flag

The necessity of a National Flag was discussed even before Sri Lanka gained independence on February 4th, 1948. Mr. A. Sinnalebbe, MP for Batticaloa tabled a motion in the State Council on January, 16, 1948 suggesting that the Lion Flag of King Sri Wic krama Rajasinghe which was taken to Britain in 1815 should be made the National Flag. This was debated and later Prime Minister Rt. Hon. D.S. Senanayake named an Advisory committee for the formulation of a National Flag. The Members of the Committee were Mr. J.R. Jayewardene, Mr. T.B. Jayah, Dr. L.A. Rajapakse, Mr. G.G. Ponnambalam and Senator S. Nadesan.
Although a Committee for the formulation of a National Flag was appointed no finality had been reached when the first independence day was celebrated on February 4th, 1948. However the Lion Flag Fluttered that day. The Lion Flag and the British Union Jack fluttered on the occasion of the opening of the first Parliament of independent Sri Lanka (then Ceylon) on February 19th, 1948. Prime Minister D.S. Senanayake unfurled the Lion Flag at the Octagon (Pattirippuwa) during the independence celebration held in Kandy on February 12th, 1948.
The National Flag recommended by the special committee was presented to Parliament by Mr. D.S. Senanayake on March 2nd, 1951 and adopted. It had two strips, one green and the other yellow. Each of these strips had to be equal to one seventh the size of the flag.
When Sri Lanka was first a Republic in 1972 the traditional Bo leaves depicted in the National Flag were changed to resemble natural Bo leaves. The amended flag was first unfurled at the Republic Day celebration held on May 22nd, 1972. The National Flag is incorporated in Section 6 Second Schedule of the Constitution of the Democratic Socialist Republic of Sri Lanka of September 9th, 1978.
Except for the new Bo leaves the present flag is the same flag recommended by the the National Flag Committee on March 2nd. 1951.
---
National Symbol

Sri Lanka used the British emblem when it was a British Crown Colony. We continued to use it even after gaining independence in 1948. According to the recommendation of a select committee appointed to devise a state emblem more suitable for Sri Lanka (Ceylon) we opted for a new state emblem. It had lion with sword in its fight fore paw encircled with a 'Palapethi' design atop. Below there was a strip carrying the country's name in Sinhala, Tamil and English.
A new republican emblem was chosen after the country was declared a Republic on May 22nd, 1972. In addition to the lion with sword and the 'Palapethi' design it portrays the punkalasa, dhammachakka, sun, moon and two sheaves of paddy.


---
National Flower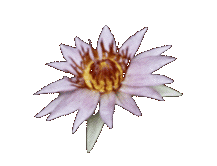 The Nil Mahanel flower was declared the National Flower of Sri Lanka on February 26, 1986. Its botanical name is 'Nympheae Stelleta.' This flower is mentioned in many Sinhala, Pali and Sanskrit literary works. This flower which is also referred to as "Kuvalaya ", "indheewara", "Niluppala", "Nilothpala" and "Nilupul" occupies a pre eminent position in Buddhist literature too. It is said the 'Nil Mahanel Flower' was among the 108 ceremonial designs found on the footprint of Prince Siddhartha. This proves that it had been a ceremonial flower throughout history. It is believed that the damsels depicted in Sigiriya Frescoes also carry the Nil Mahanel flower in their hands. Traditional poetry known as "Sandesa Kavya" likens women's eyes to the Nil Mahanel flower which has also been used as an ear ornament.
The Nil Mahanel plant which grows in shallow waters is found in all parts of the country. The flower which is purplish blue in color has a heavy concentration of petals in the center. The Nil Mahanel flower is also considered a symbol of truth, purity and discipline.
---
Religions

Buddhism
Buddhism is practiced by many Sri Lankans; manifestations of this faith can be found throughout the island in the form of Buddha statues, monuments, sculptures, stupas, etc. Introduced into the country 2,230 years ago, Buddhism is maintained in its purest form.
Hinduism
There are many Hindu Kovils in Sri Lanka and this religion is mainly practiced by the Tamil population.
Christianity
Catholic as well as non-Catholic denominations, such as Anglican (Church of England), Presbyterian, Methodist, and Adventist Churches all hold regular services.
Islam
Many mosques can be found in Sri Lanka including some very modern ones.
---
Geography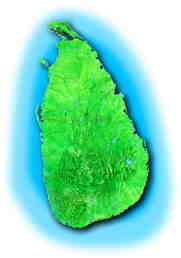 Location
Latitude 5.55 to 9.50 N
Longitude 79.42 to 81.52 E
Size
25,332 sq. miles (about the size of West Virginia(USA)
Cities
Capital City- Sri Jayawardenapura Kotte. Commercial Capital is Colombo (Population - 900,000 approximately)
Other large cities - Jaffna, Kandy, Galle
Ports - Colombo, Trincomalee, and Galle
International Airport - Bandaranayake International(Katunayake)(20 miles from Colombo)
Terrain
Coastal plains, central hills, mountains (highest mountain: Pidurutalagala 8,281 feet)
Climate
Tropical
Average temperatures:
                        Maximum                 Minumum
Colombo                 87.7°F                  75.2°F
Kandy                   83.7°F                  68.4°F
Nuwara Eliya            68.4°F                  52.5°F

Rainfall
Geographical Distribution

Average annual rainfall varies from about 37" to 228". South West quarter and Central Region (approx. 1/3 of the Island) receives more than 79" with a high between 158" to 228" being restricted to Western slopes of the Central Hills and North Eastern Hill Country. A little less than 2/3rd of Sri Lanka receives less than 79". The lowest average rainfall of less than 40" is confined to the extreme North Western and South East Region of Sri Lanka.

Seasonal Distribution

March/April - Conventional (Inter-monsoonal)
May through September - South West Monsoonal
October/November - Conventional/Cyclonic
Depressional (Inter-monsoonal)
December through February - North East Monsoonal/Depressional
Time Difference
Standard time in Sri Lanka is 5.5 hours ahead of GMT; Eastern Standard Time in the United States is behind 10.5 hours in winter, 9.5 hours in summer.
---
Demography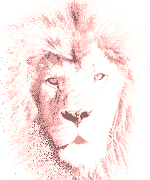 People
Nationality - Sri Lankan
Population - 18.10 million (1997 estimated)
Population growth rate - 1.2% (1993)
Infant mortality rate/1000 live births - 17.2 (1992)
Population by Ethnicity
Sinhalese - 74%
Sri Lanka Tamils - 12.7%
Indian Tamils - 5.5%
Muslims - 7%
(Others: Burghers, Malays, Parsis and Vaddhas)
Population by religion
Buddhists - 70%
Hindus - 15%
Islam - 8%
Christians - 7%
Others - Negligible
Languages
Sinhala and Tamil (Official)
English
Education
Compulsory from age 5 to 14
School attendance: 98%
11 Universities offering degree courses in - Humanities, Natural Science, Business Management, Commerce, Mass Communication, Medicine, Dentistry, Engineering, Agriculture, Law, Veterinary Science, Architecture, and Computer Studies.
Life Expectancy
Male: 69 years
Female: 74 years
Literacy Rate:
---
Government
Sri Lanka has a Republican form of Government. The current constitution was adopted in 1978. Universal suffrage began in 1931. The age of voting is 18 and above.
The executive branch consists of the President and a Cabinet of Ministers headed by the President. The President who is elected directly by the people for a six-year term (maximum two terms) is Head of the State and Head of Government. The Prime Minister is appointed by the President from among the Members of Parliment.
The legislature is called "parliament" (the equivalent of the US Congress) and consists of 225 representatives (from whom Ministers are appointed by the President). The Members of Parliament (or MP's) are elected for 6 year terms at periodical General Elections through a system of proportional representation.
The Sri Lankan Parliament is a Unicameral (one chamber) assembly.
Major Political Parties
The ruling People's Alliance (PA), is dominated by the Sri Lanka Freedom Party (SLFP); the main Opposition party is the United National Party, (UNP). Other parties represented in Parliament are The Sri Lanka Mahajana Party (SLMP), Democratic United National Front (DUNF), Communist Party (CP), Nava Sama Samaja Party (NSSP), Tamil United Liberation Front (TULF), All Ceylon Tamil Congress (ACTC), Democratic People's Liberation Front (DPLF), and Sri Lanka Muslim Congress (SLMC)
---
Judiciary
The Judicial power of the people is exercised by an independent judiciary. The Judiciary is headed by the Chief Justice who is appointed by the President.
The different levels of the judiciary are :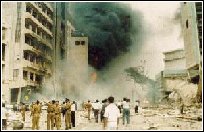 The Supreme Court
The Court of Appeal
The High Court
Courts of first instance and tribunals
---
Economy

Monetary Unit - Sri Lanka Rupees; current parity approximately Rs.96= 1 US$
Economic growth rate - 5.5% (1995)
GNP per capita income - $600 dollars (1995)
GDP per capita - US$ 2,810 (1995)
Natural resources - Gems, limestone, graphite, mineral sands, phosphates, clay, fish, and hydroelectric power.
Agriculture - 21.4% of GDP (1992)
Food Crops - Rice, sugarcane, grains, pulses, oil seeds, spices, tea, coconuts, livestock, pultry, dairy products.
Manufacturing - 18.5% of GDP (1992)
Main Exports
Tea, rubber, coconuts, garments, gems, desiccated coconut, cinnamon, ceramic products, wooden articles, made-up textiles, coconut fibre, activated carbon, articles of leather, and articles of steel.
Main Invisible Exports
Expatriate remittances and tourism. Sri Lanka is the largest exporter of Black Tea, accounting for 24.5% of total world tea exports; eighth largest exporter of rubber; largest producer of pale and brown crepe rubber; largest producer of cinnamon accounting for 90% of total world exports; second largest exporter of dessicated coconut accounting of 30% of world exports; largest export of brown coir fibre and accouts for 1/3 of world production of coconut fibre.
Industrial Products
Canned fruit, cement, ceramic ware, cosmetic accessories, dairy products, diamonds (cutting and polishing), footware, garments, gloves, handicrafts, leather goods, rubber goods, wood and wood products, paper and paper products/
Main Imports
Machinery and equipment, petroleum products, motor vehicles, synthetic yarn fabrics, wheat fertilizer, chemicals, building materials, food stuffs.
Sri Lanka's top ten trading partners
        Export Markets                  Sources of Import
        United States of America        Japan
        Germany                         India
        United Kingdom                  Hong Kong
        Belgium                         Singapore
        Japan                           China (Taiwan)

Total exports to the United States in 1994 was US$ 1,093 million. Imports from the United States was US$ 198 million.
Economic Policy
The Government is committed to building a strong national economy within a market framework. The principal engine of growth will be the private sector. Foreign Exchange liberalization measures will continue and be improved; private foreign investment both direct and portfolio will be strongly encouraged through the provision of appropriate incentives. The scope of the private sector will be expanded by encouraging and providing it with the required facilities to enter into new areas of production in agriculture, industry, infrasturctural development and the service sector. Colombo has a lively stock exchange. The Government has declared itself to be in favour of privatizing state ventures in defined areas.

This information is being given to you gratuitously and there is no agreement or guarantees that the information is updated.!


---